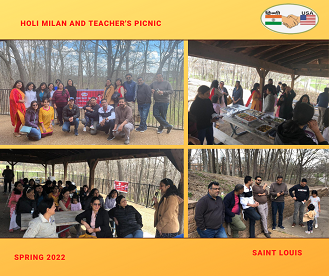 HindiUSA Saint Louis Spring Teacher's Picnic and Holi Milan
On April 2nd, 2022 all teachers and spot volunteers that provide so much support to HindiUSA Saint Louis throughout the year gathered for a spring picnic/Holi Milan. The group met at Bluebird Park in Ellisville and celebrated with a potluck.
It was fun event filled with lively conversation, delicious food, and fun games. The event started with a group photo in the Lion's Shelter, then everyone enjoyed lunch. As there were new faces we also took the time to do introductions followed by games for both kids and adults.
B1B teacher Meghna Lunkad and 12 teacher/Hindi Darpan editor Nandini Rai led everyone in a Bollywood trivia game. Kids also enjoyed games with each other. All and all it was a wonderful event.