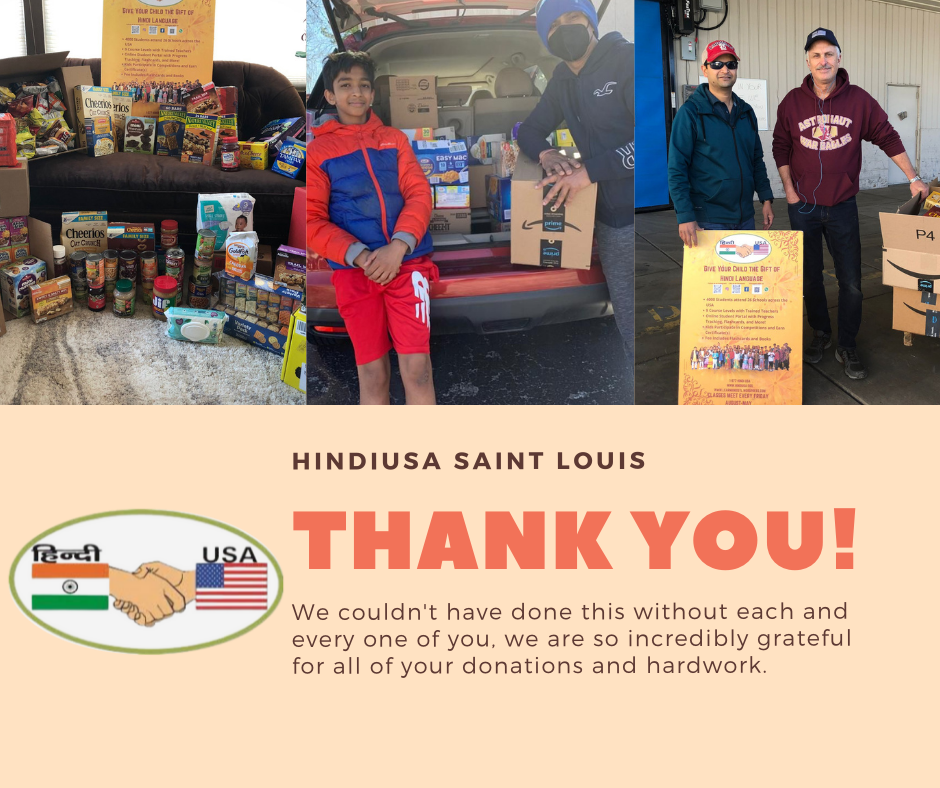 4th Annual Donation Drive
HindiUSA Saint Louis organized its 4th annual donation drive during the month of March 2022.
We appreciate all HindiUSA families who participated in this drive and many of you have donated anonymously via the AMAZON donation link that was prepared!
The event ran for all the class levels. Each class was given an equal target of items for collection and we hope that parents had engaged kids in selecting the food donation items! As we move gradually move towards in-person classes, we intend to engage kids in such donation drives.
We requested donations via three channels: Online Amazon donation link, Food drop-offs, and cash donation via Zelle.
We are happy to inform you that with your support, we exceeded our target of 2,500 donation items as parents donated almost all the suggested items including canned food, snack bags, pasta, baby products, feminine items plus household stuff. Overall more than 2600 product units and over $700 cash amount were received.
The beneficiary organization was 'Saint Louis Food Bank'.
The items were donated to the food bank this Saturday by school coordinator Mayank Jain and Nandini Rai who facilitated the drive with the help of Meghnaji, Mitaji, and Gunjanji.
Wanted to take this opportunity to thank each and every member of the HindiUSA- Saint Louis family for their contribution and immense support. We couldn't have done it without you.